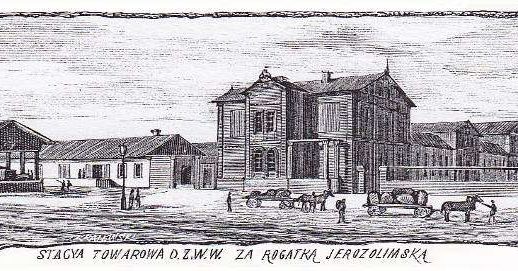 In the early 1870's the decision was made to build a new goods station on Warsaw-Vienna railroad. This was necessary as freight traffic to, and through Warsaw was constantly increasing. It was caused by several factors. Those factors were, among other things, building new spur lines serving bigger manufacturing plants, which were situated near railway lines, and increased demand for essential goods, vital for living in a quickly developing city (food products, coal, construction materials). Another important factor increasing Warsaw-Vienna railroad commodity trade was gradually interlarding its lines into an interconnected with foreign railways system, which was slowly coming into life on The Kingdom of Poland's territory.
The building and opening of the further railway lines: Warsaw-Bydgoszcz railway, Warsaw-St.Petersburg railway (1862), Warsaw-Terespol railway (1867), and also Fabryczna Railway from Koluszki to Łódź (1865), resulted in an increased flow of goods through Warsaw. The different gauge of railways meeting in Warsaw made the city an important transshipment and transit point. In this situation, in order to benefit significantly from freight traffic, the Warsaw-Vienna Railroad Company had to increase sharply the Warsaw goods station's potential, all the more due to the fact that the previously used tracks, warehouses and slip roads located at main station (corner of Marszałkowska street and Al. Jerozolimskie) were starting to become too tight.
For this reason it was decided to build a new, larger goods station outside the city, on Czyste village territory. The project was designed simultaneously with the project of connecting with each other railroads with different tracks on the right and left bank of the Vistula river, using a railroad known as the Circular Railway. The station was situated on territory of the later Warsaw Main Railway Station, and today's Station: Museum at Towarowa street.
One of the few known iconographic records with the view of the goods station is a drawing from 1875, published in "Tygodnik Ilustrowany" ("The Illustrated Weekly"). On the foreground it shows a railway dispatch house, adjacent to it a low warehouse with a ramp, and a warehouse for grain, situated along.